TOM ALLEN
NELSON'S SAILOR – SERVANT
(With Original Sources for his Story)
"Next to Lady Hamilton, Tom Allen possessed the greatest influence with his heroic master"- these are the words of Lt. Parsons who as a midshipman served at sea with Nelson, Lady Hamilton and Tom Allen and observed at first hand the close relationship of all three.
Nelsonian Reminiscences--Lt. G.S.Parsons (1843)
Tom's "period of service was pretty nearly the whole of the hero's career, that is during the most glorious epoch of our naval history, and his share in the perils and triumphs then encountered was large… such was his integrity and devotion to his master, that the really unlimited reliance of the Hero on his zealously-attached follower, was quite proverbial" –from one of the many published tributes to Tom Allen after his death in 1838.
Extracts from the Norwich Papers, (Dec 1st and 8th 1838)
<![if !vml]>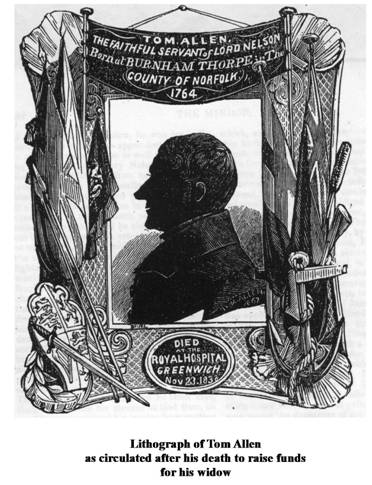 <![endif]>
Thomas Allen was Nelson's personal manservant at sea through the early great naval actions of the Napoleonic War
Battle of St. Vincent (1797), where Tom fought at Nelson's side before being badly wounded.
Raid on Santa Cruz (1797), after which Tom held Nelson's arm as it was amputated then nursed him to recovery on the journey back to England.
Battle of the Nile (1798), when Nelson's life was saved inadvertently by the padding Tom had sewn into his hat to improve its fit.
Battle of Copenhagen (1801), the night before which Tom 'assumed much command' and insisted on Nelson resting.
Tom and Nelson parted company in 1802. Despite an attempt to rejoin Tom missed the final Battle of Trafalgar (1805) so was unable to arrange, as he had in earlier battles, that Nelson wore modest uniform on the open deck. Wearing dress uniform instead, Nelson was more conspicuous and, in the hour of his greatest victory, fell to a sniper's bullet.
During the long sojourn in the Mediterranean when Nelson and Lady Hamilton had their affair (1798-1800), Tom was their trusted messenger and when they set up home together at Merton, Tom served them for a short time as butler (1801-2).
After Nelson's death, Tom returned to the Navy for a time (1809-1812), before becoming personal servant to Nelson's relative, Sir William Bolton (1817-1830).
Tom was admitted as a Pensioner to Greenwich Naval Hospital in 1831 and became something of a celebrity as tributes grew to Nelson's memory. Sir Thomas Hardy, 'Nelson's Hardy', became Governor and, when Tom died in 1838, he erected a fine monument to Tom, still standing in Greenwich Park. A lithograph was also commissioned for a memorial card circulated to raise funds for Tom's widow.
Portraits:
Tom Allen, the Faithful Servant of Lord Nelson, appears on two portraits by John Burnet in the National Maritime Museum Online Collection, at http://www.nmm.ac.uk/collections/
Ref. BHC 2510 --Portrait of Thomas Allen by John Burnet
Ref. PAI1598—Greenwich Pensioners on Trafalgar Day 1835 by John Burnet/ S.P.Denning (Tom is seated bottom left, holding Nelson's portrait)
Tom Allen's Full Story—annotated to original sources.